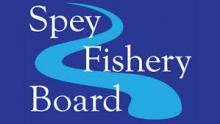 Spey Fisheries Board 
The Spey Fishery Board is responsible for the Spey Fishery District, which includes 52 rod fisheries within the mainstem of the Spey and its tributaries. The Spey Foundation undertakes a wide range of fishery activities on behalf of the board, including research, surveys & monitoring, habitat management, and Education work.
The Spey Foundation has undertaken work with key invasive plant species including Water crowfoot, Himalayan balsam, Japanese knotweed and Giant hogweed. 
The Board is now working with the Scottish Invasive Species Initiative to continue Giant hogweed, Japanese knotweed and Himalayan balsam removal work. Work is also being undertaken to remove White Butterbur which is found in extensive patches in the catchment, including undertaking research trials to assess the most appropriate control method. American skunk cabbage is also present in the area and is being controlled. 
The Spey Fisheries Board was also an active partner in several previous mink control projects, and this work is continuing now, which active mink monitoring work and trapping being undertaken.
Contact
SISI Project Officer
James Symonds    [email protected]   07493 272898
or
Spey Fishery Board
Brian Shaw    [email protected]   01340 810841