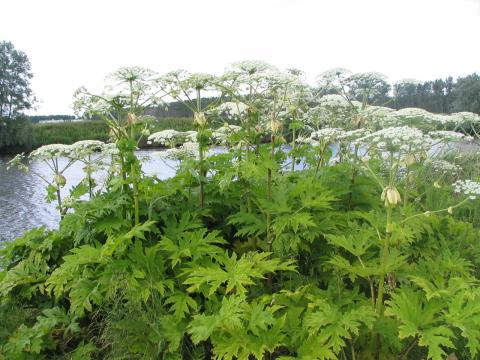 Meet the plant
Giant hogweed (Heracleum mantegazzianum) is an umbellifer (member of the cow-parsley family), and its flowering stems are typically 2-3 m in height bearing flower heads up to 80cm across. The lower leaves are often 1m more in size and distinctively spiky.
It grows by lowland rivers, in rough pastures and on wasteland and is widespread throughout Great Britain.
It was introduced into gardens as a curiosity around 1820 and was deliberately planted by rivers and ponds.
Giant hogweed reproduces entirely by seeds, it is monocarpic –i.e.  it reproduces only once in its lifetime. Plants are able to self-fertilise and each plant can produce 20-30,000 seeds, some of which can survive more than 3 years in the soil.
Download the Giant hogweed ID guide
Read more about Giant hogweed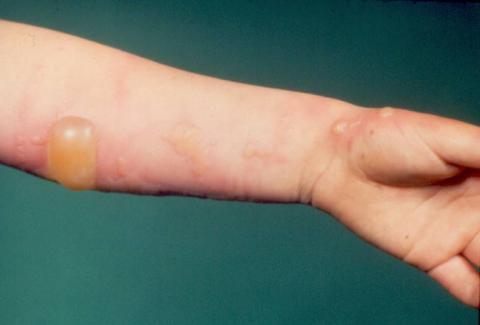 Impacts
Giant hogweed forms dense stands which stops native flowers and shrubs from growing.
It produces a phytotoxic sap, which in contact with the human skin and combined with sunlight causes skin burns.
warning text
CAUTION!
The sap of the Giant hogweed causes skin burns, if you see this plant do not touch it and keep dogs away - they've been known to get burns too!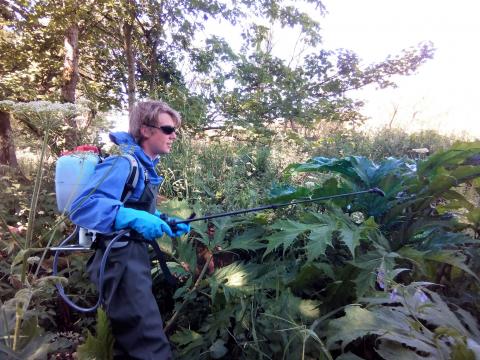 Management of Giant hogweed
Control of Giant hogweed needs to be undertaken with great care, due to its potential health hazards. 
Herbicide Application
We are treating Giant hogweed using the safest and most effective way, which is to treat the emerging leaves with herbicide (Glyphosate) in springtime.  We visit each treatment site twice, with an initial treatment between March – May, and a second follow up treatments in June – July.
Remember – you may need permissions from SEPA to use pesticides near water, and you may need permission to remove or dispose of invasive species and contaminated soils.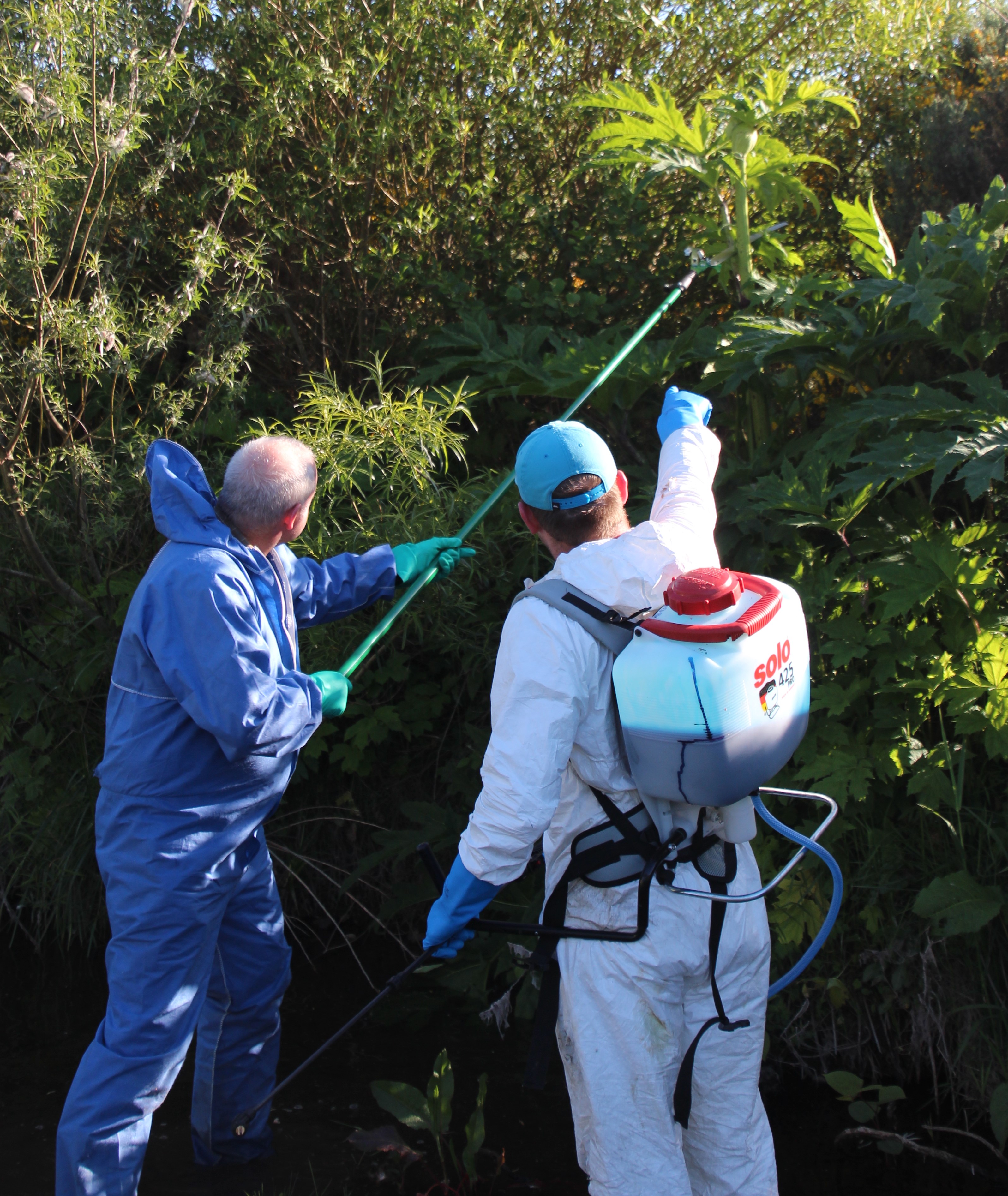 Cutting & Digging
Flower heads can be cut off plants using a pole saw, to prevent seeds spreading. To do this the flower head should be enclosed in a large cotton bag or sack and tied, and then the stem cut and the flower heads collected and burnt.
Flower buds on stems can also be cut, to prevent flowers developing. In addition cut stems are usually treated with herbicide.
Giant hogweed can be dug, and tap roots cut, but this is only suitable during the first stage of the growing season on young plants.
Full PPE must be worn to protect against the dangers of the Giant hogweed sap, especially when stems are cut which releases the sap.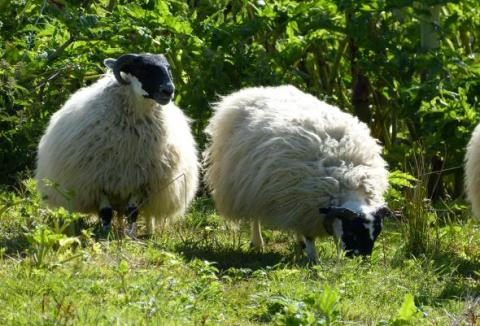 Hogweed Munching Sheep
Grazing by livestock has been found to decrease the ability of Giant hogweed to reproduce, so we are going to be hosting a sheep grazing trial of Giant hogweed, read more about our hogweed munching sheep.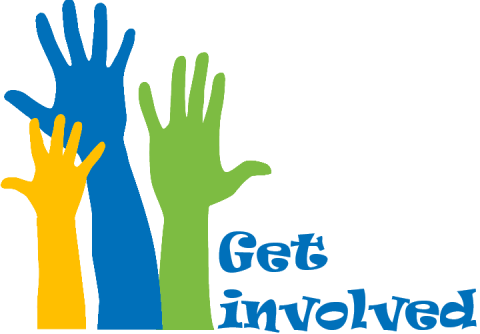 Get involved!
We want to create a network or local people who have their pesticide application qualifications who can treat Giant hogweed in their local area, these might be individuals, students, estate workers, ghillies, rangers, wildlife groups, community groups.
Find out more about volunteering and getting qualified
Text
Giant hogweed is found extensively throughout our project area, in all our partner catchment areas except for the Wester Ross and West Sutherland areas.
Text
You might also be interested in

Find out about the dominating Himalayan balsam, pretty flowers, but a pretty serious problem for our riverbanks.

Find out more about the persistent Japanese knotweed, the problems it causes and what we are doing about it.

Learn about the garden escapee American skunk cabbage and why it has become a problem in our countryside