Text
It is the aim of the Scottish Invasive Species Initiative to help volunteers gain skills and knowledge and develop as much as possible within their volunteer roles. We also want you to have fun and feel appreciated.
We are able to provide various training courses and qualifications to our volunteers, at no cost, to enable you to develop skills and contribute more fully to invasive species management work now and in the future. You must register as a SISI volunteer to be eligible to access the training opportunities we provide - we'd also hope you'd put your new skills to good use with us when you qualify so that we can tackle invasive species together. 
Formal training and qualifications (e.g. pesticide application and first aid) will be delivered by external providers, and will be organised in locations to meet local demand from our volunteers - usually fed through to us by our project staff and fishery trust staff who will be aware of the requirements of volunteers they are working with. 
Informal training will be provided by our SISI project staff, which will primarily take place in the field during task days as well as through a selection of organised days. 
We will also be organising social events to help volunteers have a great experience with us.
Please ensure that you sign up to our Scottish Invasive Species Initiative newsletter when you register with us as a volunteer - that way we can keep you up to date about all our volunteering and training opportunities as they become available. 
If you are interested in any of these training opportunities please mention it to your local project officer or fishery trust staff who you normally volunteer with.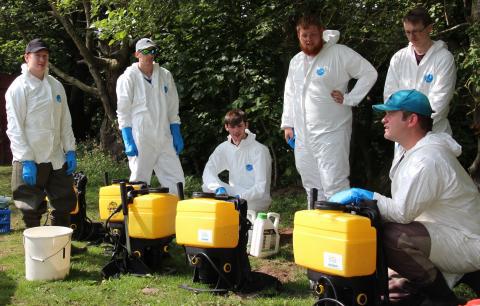 Pesticide application
We will be organising courses in pesticide spraying which is a 2-3 day course and assessment.  This provides the City & Guilds NPTC Level 2 Award in PA1 (safe use of pesticides) and PA6 (hand held applicator i.e. knapsack sprayer). Volunteers who will be using these skills to control invasive species within our project area, will be able to attend this course and assessment free of charge. 
The course includes both classroom work and practical training, and the assessment includes both a written test and a practical test. The assessment is organised seperately to the course. 
We will also provide the necessary PPE (personal protective equipment) as required. 
This training is a significant investment for the project per volunteer and will be prioritised for those who express an interest and show a dedication for the long-term approach to controlling invasive species.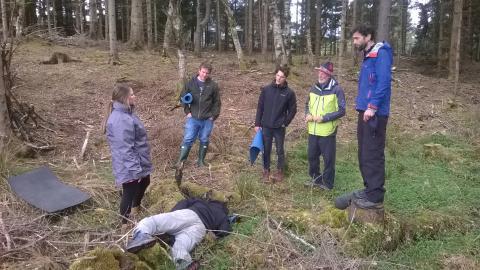 Outdoor first aid
In order to help establish self-sufficient volunteer groups, or support existing groups we recognise that providing first aid training to volunteer leaders and key volunteers will help them run their own tasks with confidence.
Courses will be organised in outdoor first aid, delivered by a certified instructor. This is a 2 day course, including an assessment. Volunteers working with our project will be able to attend free of charge.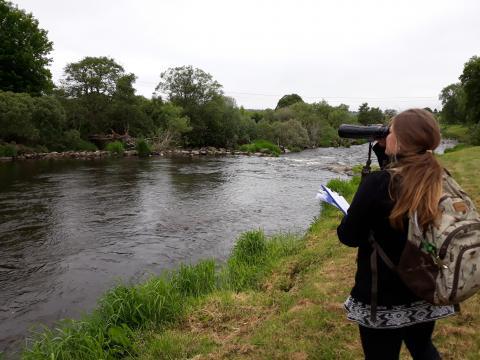 Species identification and surveying
Our project officers can provide volunteers with training in surveying techniques, this will include invasive species identification, survey approach, GPS use and map reading. Volunteers undertaking surveys will aslo be trained in how to use the plant database to upload their results and data collected. 
Volunteers will also be trained to identify common native species, on field days or at specific training days, to help gather data on the diversity and abundance of native species in relation to invaded, managed and cleared areas. We also want you to be able to enjoy your time working near a river and appreciate and learn about it's diverse wildlife.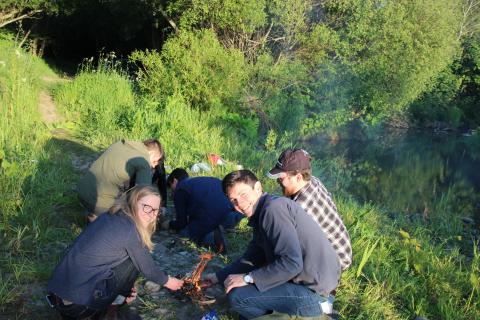 Bushcraft and BBQ's
Our project leaders will keep it interesting by introducing our volunteers to various bushcraft techniques, a little light hearted fun at the end of a hard work day. We'll get the fire lighters sparking, the marshmallows toasting and the brew on!
Every year we'll also be organising regional barbeques and social events to allow us to say a proper thank you to our volunteers and allow some time for learning, reflection, idea sharing and socialising.
Text
You might also be interested in

Find out about the ways you can get involved - become a qualified pesticide sprayer, adopt a mink raft, do some wildlife surveying.....

Activities, games and puzzles all themed around invasive species. Fun for all the family - young and old!